| | | |
| --- | --- | --- |
| | | Products |
Electroplate Bonded Diamond Core Drill Bits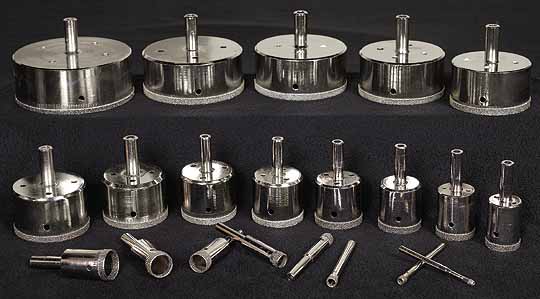 Diamond Core Drill Bits are premium specialty drill bits designed for drilling in hard abrasive non-ferrous materials. The electroplate bonded diamond drill bits have a superior design developed through extensive testing. Material uses include:
Glass

Ceramics

Tile

Stone

Window Glass

Glass Block

Stained Glass

Aquarium Glass

Glass Fixtures

Ceramics

China Plates

Porcelain Dishes

Ceramic Fixtures

Porcelain Fixtures

Wall Tile

Floor Tile

Stone Tile

Ceramic Tile

Porcelain Tile

Slate

Marble

Quartz

Granite

Limestone
Designed for drilling to depths of about 1/2"
(Not for use on metals, concrete, masonry, or with impact hammer drills)
Diamond Drill Bit Design Characteristics

Electroplate Bonded Diamond Core Drill Bits are designed for drilling in most types of hard abrasive non-ferrous materials. Many special design features have been engineered into the DiamondSure bits to provide optimum drilling efficiency in extremely hard, unforgiving materials such as stone, tile and glass.
Shaft Lubrication Hole: Allows bit to be used with a "center water-feed" lubrication system to provide maximum tip lubrication. Also provides a secondary access point for removal of drill cores. The use of a center water-feed system is optional.
Common Shaft Sizes: Shafts are 3/8" or less to fit any standard drill.

Core Extraction Holes: Special holes in back of the "Bell" allow easy removal of cores or plugs.

Nickel Plated: Reduces bit friction and heat build-up and inhibits rust.

Tip Lubrication Holes: Provides optimum tip lubrication by allowing water flow in and out of bit.
Grooved Tip Edge: Provides maximum surface area for diamond bonding and increases water "churn" to optimize tip lubrication.
Bonded Diamond Grit: Electroplate bonded diamonds for optimum diamond life.
U.S. Patent No. 7,204,244
Exclusion of Pilot Bits on Diamond Core Drill Bits
Pilot bits are often used on standard metal core drill bits and hole saws designed for

use on wood, plastic and other relatively soft materials. As shown in the picture on the left, a pilot bit is a small drill bit located in the center of the hollow core drill bit. The pilot bit helps keep the main core drill bit centered while starting a hole. Pilot bits are especially convenient when using a core drill bit in a hand drill. When a pilot bit is not present, a core drill bit may tend to "walk" or "wander" until the bit seats into a groove.
However, pilot bits are rarely used on diamond core drill bits since there are many engineering drawbacks of using a pilot bit when drilling in very hard materials with a diamond core drill bit.
The diamond pilot bit usually wears out before the main core bit.


Drilling times can be considerable when drilling in very hard materials and a pilot bit can double the drilling time since two holes are being drilled.


A pilot bit eliminates the shaft water-feed lubrication hole and does not allow the use of center water-feed equipment.


A diamond pilot bit adds significant cost to an already expensive diamond drill bit.
A template can easily be used to start a core drill that does not have a pilot bit. This simple technique is discussed in the following section.

Starting template
made from plastic.

Starting a Core Drill Bit by Using a Template

Core drill bits above 1/2" work best when used in a drill press rather than in a hand drill. Starting a core drill bit when using a drill press is simple, since the drill press keeps the drill bit from moving about. To reduce drill bit slippage or "walking" when using a hand drill, a template can be made to help start the drill bit if necessary.

A template is made by drilling a pilot hole in a piece of soft wood or plastic, using the diamond core drill bit or by cutting a "V" in the edge of a piece of wood or plastic or drilling a hole in it the size of ther core drill. The hole template works best, however, the "V" template is easier to make and can be used with many sizes of core drill bits.

Templates are often made of 1/8" plexiglass, 1/8" pressed wood or even cardboard. For repetitive drilling, a plastic or plexiglass template works best since water lubrication can be used immediately. The template is placed on the surface of the material being drilled, with the pilot hole or "V" above the target hole area. The template will hold the core drill bit in place as it starts. After just a few revolutions of the drill bit, a groove is created and the template can be removed.
Recommended Drill Speeds
.


DiamondSure Diamond Core Drill Bits


Recommended Drill Speed (rpm)

Material Bit Size -->

1/8"
to 1/2"

5/8"
to 1"

1-1/8"
to 1-1/2"

1-3/4"
to 2"

2-1/4"
to 2-1/2"

2-3/4"
to 3"

Fiberglass

1200

700

525

350

300

250

Glass, Ceramic & China

800

500

375

250

200

160

Limestone & Marble Stone

600

450

325

225

175

130

Ceramic Wall Tile

600

450

325

225

175

130

Porcelain Wall Tile

500

375

275

180

150

125

Porcelain Floor Tile

500

375

275

180

150

125

Granite & Quartz Stone

400

300

225

150

125

100
Copyright DiamondSure 1998-2015
Use and Reproduction is Restricted
See Copyright Information
www.DiamondSure.com
DiamondSure - Manufacturer of Diamond drill bits and diamond tools for glass, tile, ceramics and stone.


---

©

Copyright DiamondSure 1998-2017 All web site content, including images,
pictures, graphics, layout designs, wording content and organization, are the
exclusive registered property of DiamondSure. See Copyright Information

---

Site Index | Contact Us | Privacy
.