| | | |
| --- | --- | --- |
| | | Bit Specifications |
Electroplate Bonded Diamond Core Drill Bits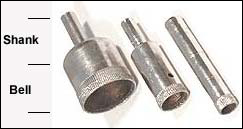 See detailed design and size specifications below.
U.S. Patent No. 7,204,244
1/8"
(3.3mm)
Electroplated
Diamond Core
Drill Bit




| | |
| --- | --- |
| Stock Number: | 900-001 |
| Drill Bit Size: | 1/8" |
| Outside Diameter: | 0.129" (3.3mm) |
| Inside Diameter: | 0.07" (1.7mm) |
| Shank Diameter: | 5/32" (0.15"/3.9mm) |
| Shank Length: | 1-5/8" (42mm) |
| Tapered Tip: | 5/8" (16mm) |
| Total Length: | 2-1/4" (58mm) |
| Diamond Grit: | 120 Diamond Grit |
3/16"
(4.9mm)
Electroplated
Diamond Core
Drill Bit




| | |
| --- | --- |
| Stock Number: | 900-002 |
| Drill Bit Size: | 3/16" |
| Tip OSD Diameter: | 0.19 (4.9mm) |
| Core ISD Diameter: | 0.12" (3.1mm) |
| Shank Diameter: | 3/16" (0.17"/ 4.4mm) |
| Shank Length: | 2-1/4" (58mm) |
| Bell Length: | N/A" (Tube style bit) |
| Total Length: | 2-1/4" (58mm) |
| Diamond Grit: | 120 Diamond Grit |
1/4"
(6.5mm)
Electroplated
Diamond Core
Drill Bit




| | |
| --- | --- |
| Stock Number: | 900-003 |
| Drill Bit Size: | 1/4" |
| Tip OSD Diameter: | 0.26 (6.5mm) |
| Core ISD Diameter: | 0.19" (4.9mm) |
| Shank Diameter: | 1/4" (0.24"/ 6mm) |
| Shank Length: | 2-1/4" (58mm) |
| Bell Length: | N/A" (Tube style bit) |
| Total Length: | 2-1/4" (58mm) |
| Diamond Grit: | 120 Diamond Grit |
5/16"
(8.1mm)
Electroplated
Diamond Core
Drill Bit




| | |
| --- | --- |
| Stock Number: | 900-004 |
| Drill Bit Size: | 5/16" |
| Tip OSD Diameter: | 0.32 (8.1mm) |
| Core ISD Diameter: | 0.25" (6.3mm) |
| Shank Diameter: | 1/4" (0.24"/ 6mm) |
| Shank Length: | 1" (26mm) |
| Bell Length: | 1-1/4" (32mm) |
| Total Length: | 2-1/4" (58mm) |
| Diamond Grit: | 120 Diamond Grit |
3/8"
(9.7mm)
Electroplated
Diamond Core
Drill Bit




| | |
| --- | --- |
| Stock Number: | 900-005 |
| Drill Bit Size: | 3/8" |
| Tip OSD Diameter: | 0.38 (9.7mm) |
| Core ISD Diameter: | 0.31" (7.9mm) |
| Shank Diameter: | 1/4" (0.24"/ 6mm) |
| Shank Length: | 1" (26mm) |
| Bell Length: | 1-1/4" (32mm) |
| Total Length: | 2-1/4" (58mm) |
| Diamond Grit: | 120 Diamond Grit |
1/2"
(12.9mm)
Electroplated
Diamond Core
Drill Bit




| | |
| --- | --- |
| Stock Number: | 900-006 |
| Drill Bit Size: | 1/2" |
| Tip OSD Diameter: | 0.51 (12.9mm) |
| Core ISD Diameter: | 0.43" (10.9mm) |
| Shank Diameter: | 1/4" (0.24"/ 6mm) |
| Shank Length: | 1" (26mm) |
| Bell Length: | 1-1/4" (32mm) |
| Total Length: | 2-1/4" (58mm) |
| Diamond Grit: | 120 Diamond Grit |
5/8"
(16.1mm)
Electroplated
Diamond Core
Drill Bit




| | |
| --- | --- |
| Stock Number: | 900-007 |
| Drill Bit Size: | 5/8" |
| Tip OSD Diameter: | 0.63 (16.1mm) |
| Core ISD Diameter: | 0.54" (13.6mm) |
| Shank Diameter: | 5/16" (0.31"/ 8mm) |
| Shank Length: | 1" (26mm) |
| Bell Length: | 1-1/4" (32mm) |
| Total Length: | 2-1/4" (58mm) |
| Diamond Grit: | 80 Diamond Grit |
3/4"
(19.3mm)
Electroplated
Diamond Core
Drill Bit




| | |
| --- | --- |
| Stock Number: | 900-008 |
| Drill Bit Size: | 3/4" |
| Tip OSD Diameter: | 0.76 (19.3mm) |
| Core ISD Diameter: | 0.66" (16.7mm) |
| Shank Diameter: | 5/16" (0.31"/ 8mm) |
| Shank Length: | 1" (26mm) |
| Bell Length: | 1-1/4" (32mm) |
| Total Length: | 2-1/4" (58mm) |
| Diamond Grit: | 80 Diamond Grit |
7/8"
(22.4mm)
Electroplated
Diamond Core
Drill Bit




| | |
| --- | --- |
| Stock Number: | 900-009 |
| Drill Bit Size: | 7/8" |
| Tip OSD Diameter: | 0.88 (22.4mm) |
| Core ISD Diameter: | 0.78" (19.7mm) |
| Shank Diameter: | 5/16" (0.31"/ 8mm) |
| Shank Length: | 1" (26mm) |
| Bell Length: | 1-1/4" (32mm) |
| Total Length: | 2-1/4" (58mm) |
| Diamond Grit: | 80 Diamond Grit |
1"
(25.7mm)
Electroplated
Diamond Core
Drill Bit




| | |
| --- | --- |
| Stock Number: | 900-010 |
| Drill Bit Size: | 1" |
| Tip OSD Diameter: | 1.01 (25.7mm) |
| Core ISD Diameter: | 0.90" (22.9mm) |
| Shank Diameter: | 5/16" (0.31"/ 8mm) |
| Shank Length: | 1" (26mm) |
| Bell Length: | 1-1/4" (32mm) |
| Total Length: | 2-1/4" (58mm) |
| Diamond Grit: | 80 Diamond Grit |
1-1/8"
(28.8mm)
Electroplated
Diamond Core
Drill Bit




| | |
| --- | --- |
| Stock Number: | 900-011 |
| Drill Bit Size: | 1-1/8" |
| Tip OSD Diameter: | 1.13 (28.8mm) |
| Core ISD Diameter: | 1.03" (26.1mm) |
| Shank Diameter: | 5/16" (0.31"/ 8mm) |
| Shank Length: | 1" (26mm) |
| Bell Length: | 1-1/4" (32mm) |
| Total Length: | 2-1/4" (58mm) |
| Diamond Grit: | 80 Diamond Grit |
1-1/4"
(32.0mm)
Electroplated
Diamond Core
Drill Bit




| | |
| --- | --- |
| Stock Number: | 900-012 |
| Drill Bit Size: | 1-1/4" |
| Tip OSD Diameter: | 1.26 (32.0mm) |
| Core ISD Diameter: | 1.16" (29.4mm) |
| Shank Diameter: | 5/16" (0.31"/ 8mm) |
| Shank Length: | 1" (26mm) |
| Bell Length: | 1-1/4" (32mm) |
| Total Length: | 2-1/4" (58mm) |
| Diamond Grit: | 80 Diamond Grit |
1-3/8"
(35.1mm)
Electroplated
Diamond Core
Drill Bit




| | |
| --- | --- |
| Stock Number: | 900-013 |
| Drill Bit Size: | 1-3/8" |
| Tip OSD Diameter: | 1.38 (35.1mm) |
| Core ISD Diameter: | 1.28" (32.4mm) |
| Shank Diameter: | 5/16" (0.31"/ 8mm) |
| Shank Length: | 1" (26mm) |
| Bell Length: | 1-1/4" (32mm) |
| Total Length: | 2-1/4" (58mm) |
| Diamond Grit: | 80 Diamond Grit |
1-1/2"
(38.4mm)
Electroplated
Diamond Core
Drill Bit




| | |
| --- | --- |
| Stock Number: | 900-014 |
| Drill Bit Size: | 1-1/2" |
| Tip OSD Diameter: | 1.51 (38.4mm) |
| Core ISD Diameter: | 1.40" (35.6mm) |
| Shank Diameter: | 5/16" (0.31"/ 8mm) |
| Shank Length: | 1" (26mm) |
| Bell Length: | 1-1/4" (32mm) |
| Total Length: | 2-1/4" (58mm) |
| Diamond Grit: | 80 Diamond Grit |
1-3/4"
(44.7mm)
Electroplated
Diamond Core
Drill Bit





| | |
| --- | --- |
| Stock Number: | 900-015 |
| Drill Bit Size: | 1-3/4" |
| Tip OSD Diameter: | 1.76 (44.7mm) |
| Core ISD Diameter: | 1.65" (42.0mm) |
| Shank Diameter: | 3/8" (0.38"/ 9.8mm) |
| Shank Length: | 1" (26mm) |
| Bell Length: | 1-1/4" (32mm) |
| Total Length: | 2-1/4" (58mm) |
| Diamond Grit: | 80 Diamond Grit |
2"
(51.1mm)
Electroplated
Diamond Core
Drill Bit




| | |
| --- | --- |
| Stock Number: | 900-016 |
| Drill Bit Size: | 2" |
| Tip OSD Diameter: | 2.01 (51.1mm) |
| Core ISD Diameter: | 1.91" (48.4mm) |
| Shank Diameter: | 3/8" (0.38"/ 9.8mm) |
| Shank Length: | 1" (26mm) |
| Bell Length: | 1-1/4" (32mm) |
| Total Length: | 2-1/4" (58mm) |
| Diamond Grit: | 80 Diamond Grit |
2-1/4"
(57.5mm)
Electroplated
Diamond Core
Drill Bit




| | |
| --- | --- |
| Stock Number: | 900-017 |
| Drill Bit Size: | 2-1/4" |
| Tip OSD Diameter: | 2.26 (57.5mm) |
| Core ISD Diameter: | 2.16" (54.8mm) |
| Shank Diameter: | 3/8" (0.38"/ 9.8mm) |
| Shank Length: | 1" (26mm) |
| Bell Length: | 1-1/4" (32mm) |
| Total Length: | 2-1/4" (58mm) |
| Diamond Grit: | 80 Diamond Grit |
2-1/2"
(63.9mm)
Electroplated
Diamond Core
Drill Bit




| | |
| --- | --- |
| Stock Number: | 900-018 |
| Drill Bit Size: | 2-1/2" |
| Tip OSD Diameter: | 2.51 (63.9mm) |
| Core ISD Diameter: | 2.41" (61.2mm) |
| Shank Diameter: | 3/8" (0.38"/ 9.8mm) |
| Shank Length: | 1" (26mm) |
| Bell Length: | 1-1/4" (32mm) |
| Total Length: | 2-1/4" (58mm) |
| Diamond Grit: | 80 Diamond Grit |
2-3/4"
(70.2mm)
Electroplated
Diamond Core
Drill Bit




| | |
| --- | --- |
| Stock Number: | 900-019 |
| Drill Bit Size: | 2-3/4" |
| Tip OSD Diameter: | 2.76 (70.2mm) |
| Core ISD Diameter: | 2.65" (67.5mm) |
| Shank Diameter: | 3/8" (0.38"/ 9.8mm) |
| Shank Length: | 1" (26mm) |
| Bell Length: | 1-1/4" (32mm) |
| Total Length: | 2-1/4" (58mm) |
| Diamond Grit: | 80 Diamond Grit |
3"
(76.5mm)
Electroplated
Diamond Core
Drill Bit





| | |
| --- | --- |
| Stock Number: | 900-020 |
| Drill Bit Size: | 3" |
| Tip OSD Diameter: | 3.01 (76.5mm) |
| Core ISD Diameter: | 2.90" (73.8mm) |
| Shank Diameter: | 3/8" (0.38"/ 9.8mm) |
| Shank Length: | 1" (26mm) |
| Bell Length: | 1-1/4" (32mm) |
| Total Length: | 2-1/4" (58mm) |
| Diamond Grit: | 80 Diamond Grit |
DiamondSure - Manufacturer of Diamond drill bits and diamond tools for glass, tile, ceramics and stone.


---

©

Copyright DiamondSure 1998-2017 All web site content, including images,
pictures, graphics, layout designs, wording content and organization, are the
exclusive registered property of DiamondSure. See Copyright Information

---

Site Index | Contact Us | Privacy
.